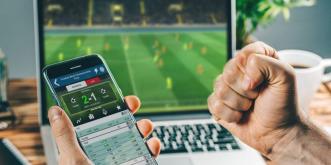 09/11/2021
How to Start an Online Sportsbook — 2021 Guide
Do you want to launch an online sportsbook? You need to know many things to achieve it, but with the help of this quick guide, you'll be a step closer.
Despite the massive problems the pandemic caused, running an online sportsbook is now more lucrative than ever. Sporting events are back on track, but countless physical bookmakers have closed down for good, which has left an empty place for businesses willing to fill in the spot with online alternatives. 
What's more, even without the pandemic, online bookies still benefit from a highly lucrative market. For instance, in Europe, the income from sports betting accounts for as much as 40% of the entire iGaming income, while the estimated growth rate is supposed to be 10% year-on-year until 2025. 
In the US, the 2018 Supreme Court ruling has opened the doors for the legalization of sports betting in all states, and revenues are expected to rise from the current $1 billion in 2020 to $8 billion in 2025. 
Even Africa is seeing a boom in various forms of iGaming, with sports betting being the most prevalent one. 
But how does one enter any of these markets? How do you start an online bookmaker? Let's take a look. 
Where Should I Launch a Sports Betting Site?
When deciding where to launch, you have two roads to take:
Try to enter a regulated space.
Create a site targeting unregulated markets, i.e. countries where iGaming is a grey area.
Regulated markets offer higher potential earnings but require you to jump through hoops to get a license. On the other hand, the unregulated road lets you target various markets while benefiting from not having to run for hard-to-get permits. 
You should know that the second option is still great, as you won't be entering an unsecured market, but one that's dominated by respectable internationally recognized regulators, including:
Malta
Alderney
Isle of Man
Gibraltar
All of them open many doors and ensure that the sites with their licenses adhere to high standards.
They also cover lucrative emerging markets like Africa, Latin America, Eastern Europe, and the Balkans.
Preparation — The Bet Size, the Vig, Odds, and More
One of the most important things you have to do when starting a sportsbook is to plan things like odds and the vig in advance. 
First of all, you need to cap your bet size, so you can pay up all winners from the get-go. A cap will allow you to plan the approximate number required to cover these wins.
Then you can consider how to represent odds and make plans for their modification for every event. All bookmakers change odds at various points to adequately cover an event and ensure higher revenues. 
At the same time, you will have to decide on the commission you would like to take from each bet, the commission commonly referred to as the vig. It can also vary depending on the event and other factors. 
Naturally, you will have to consider the competitors, as many players tend to shop around for the best odds and lower commissions. 
More importantly, you will have to understand that running a sports betting site is a serious business and not a way to get rich quickly. If you do everything correctly, you can gain significant profits in the long run. 
To achieve that, you need to ensure you have good odds that will guarantee half the bets go in your favor, or in other words, that bettors lose half of the total bets on the site. The vig will ensure that the bets that go in your favor cover the ones the players win. 
How Much Money Do I Need?
To operate a respectable bookie, you will have to create a sound business plan and prepare to spend significant funds. The total amount will vary depending on a wide range of factors, most notably:
The market
Licensing costs
Number of potential bettors
What Kind of Betting Platform Should I Choose?
When it comes to the platform itself, you can choose to create one in-house, or you can purchase one from a third-party solution. 
The first option means you do everything on your own, while the latter gets you the backend part of the site, and you get to change things as you like for the frontend. You can also do a customizable solution where you get more freedom to change things up. 
Naturally, you will have to consider other subsystems as well, like the banking section, customer support, and more. 
The good news is that you can get help with all of these if you decide to choose an excellent third-party solution, while all you need is a vision and a good business plan.