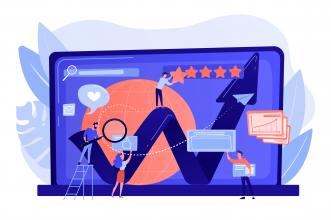 04/04/2021
Main benefits CRM systems offer for iGaming industry
The key features of CRM which allow gambling operators to maximise their efficiency of operations and marketing reach to new customers.
When running an online casino or any other type of gambling/betting site you need to meet and exceed the expectations of your players. Most owners have been using CRM systems in order to make this possible and easier. CRM stands for Customer Relationship Management and in a nutshell, it helps owners manage the data from users wisely. There are many more features these tools have to offer. Adding these tools can help you with:
Better retention of players
Market campaigns based on actions
To better understand the needs of your users
Analytics in the real time
Constant GOI increase
Of course, we mentioned benefits. There are 5 of them which are extremely important and all of them will be mentioned below.
Smart segmentation
The simplest answer here is that the CRM systems can categorize the customers into several groups according to their IP address, behavior, and also their location. This allows owners to place different offers or promotions to different types of players. As such, there is no one type of promotion for all bettors that may look generic because it is.
In addition, all players that match the specified criteria will be placed in the corresponding category which should have a positive effect on the gambling experience and also for owners of the casino. The goal is to create patterns for all users and use that to offer them what they need.
Better personalization
It is essential to know that all gamblers are different. They like to bet on different sports or play different games and want to have the best possible outcome. You need to provide a personal experience that will put a smile on the face of users. CRM systems are once again the right answer.
Advanced systems of this kind are based on AI mechanics and they use machine learning. Thanks to this, the system can analyze the activity of each and every player and collect all of the data within seconds. It will cross-reference the data with the sport or bet and create lots of information needed for the marketing teams. Then, these teams are able to offer targeted promotions and other perks for each player.
Accurate and fast analytics
CRM systems are excellent when it comes to analytics. These can collect massive amounts of data that can include all main parameters. For instance, you can get details about churn rate, win or loss ratio and so much more.
The goal here is to get the data that can help you find an issue with your online casino and improve it. For example, you can see how many gamblers left the site in a specific period of time. After that, you can create a strategy that will fix the issue. With more data, you will have more options to offer all the things players need and also to acquire new ones. You can have all the right things players need right now, which brings us to the next section.
Higher retention rate
34% of players will leave a specific brand simply because marketing offers were irrelevant or poorly designed. CRM systems will make sure this doesn't happen to you. As you were able to see, these systems can help you tailor specific and accurate marketing messages to each and every user that will help you with player retention.
Your mission is to keep the best players and help them play at your site as long as possible. This is one thing that can help you have a successful business. Here are 4 main elements when it comes to goal for player retention:
Personalized welcome promotions
Useful registration process guide
Free offers (free spins for example)
The reason why they come back (VIP membership, high roller bonuses, and more)
Better experience for players
A CRM system can also help you find a problem your clients may have. Your site may be complicated in some sections. Once the system reports the issue, you can correct it and you should do this as quickly as possible. A player can leave one brand if he finds the site too complicated or not intuitive. With CRM you can eliminate this risk completely.
The final word
CRM system can help you get more data from your players that will then help you tailor a more specific experience for each one. In other words, you will understand your players more and they will appreciate your brand even more. We can deduce that smart and advanced CRM tools are essential for having a successful iGaming business these days.